Clinical studies conducted by International Research Services Inc. and Structure Probe Inc. in United States.

ABSOLUTELY NO KNOWN SIDE EFFECTS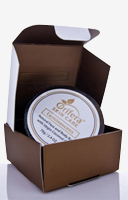 Available online Now !

Clinically Proven for Skin Vitality
"These photos are not fake, they are my friends. It actually worked for them. I am amazed about the Luminescens Ghassoul Bar Soap.
I took all those picture on 15th Jan 2010 and no photoshop involved. And 10days later I will take the photos of them again. Which I believe they will be completely healed from pimples."

Heng
Subang Jaya, Selangor.
Before :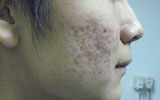 After :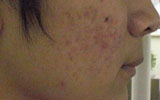 Before :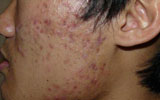 After :
"Before I began using the Luminescens Ghassoul Bar Soap my wrinkles on my face is clearly seen.
After using the Luminescens Ghassoul Bar Soap for 3 weeks the skin texture and clarity is improving rapidly.
Needless to say, I am truly thankful for this amazing Luminescens Ghassoul Bar Soap."

Ms. Lew
Petaling Jaya, Selangor.
Before :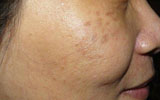 After :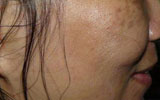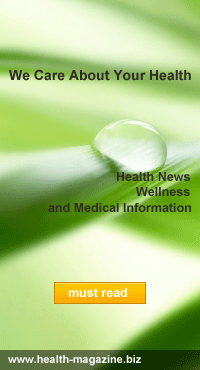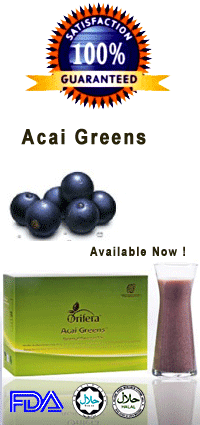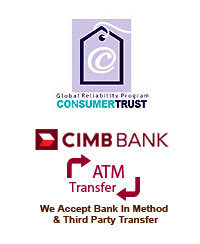 Luminescence Ghassoul
Facial Bar
The Wonder of Nature's Nutrients
Nature's Wonder Bar For Healthier Skin!


The Ghassoul Clay From Morocco
The Ghassoul Clay is found deep under the Atlas Mountains in Eastern Morocco, it is very difficult to obtain and with limited reserves. The Ghassoul clay is also called Rhassoul and Rassoul . The names derived from an Arabic word ghassala, which means "Washing". Its appearance is Reddish-Brown and very rich in minerals. It is also called "Nature's Cosmetic Clay"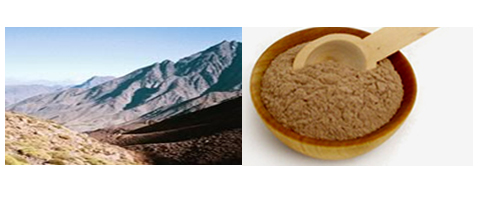 In the Ancient past kings and emperors would conquer the area and harvest the Ghassoul Clay for the women in the Palaces, as it was much sought after as it was known to bring "youthfulness" to facial skin and body!
The recent Clinical studies conducted by International Research Services Inc. and Structure Probe Inc. in United States of America.
That just a single Application of Ghassoul Bar shows improvement in skin quality in :

• Reduces dryness (79%)
• Reduces flakiness (41%)
• Improves skin clarity (68%)
• Improves skin elasticity / firmness (24%)
• Improves skin texture (106%)
• Removes surface oil and oil from the inside and around comedons
(blackheads and pimples)
• Removes dead skin layers, resulting in a general smoothing of the surface skin
AND IT IS ABSOLUTELY NO KNOWN SIDE EFFECTS !
Clinically Proven for Skin Vitality.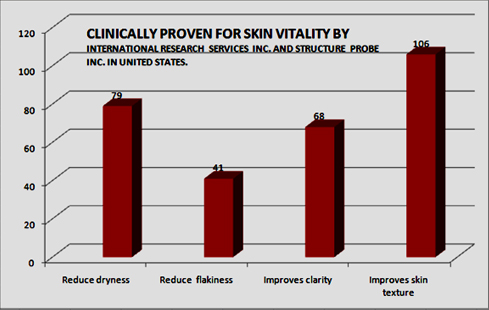 The Positive Effects On Actual Malaysian Citizens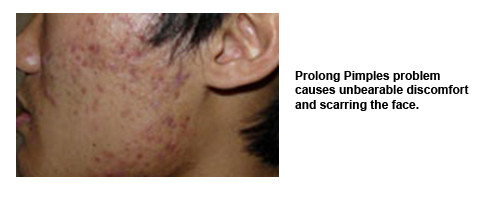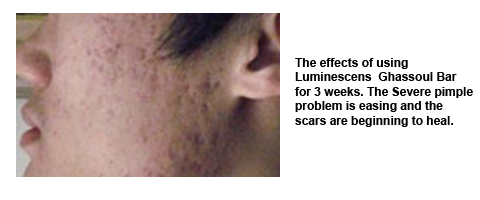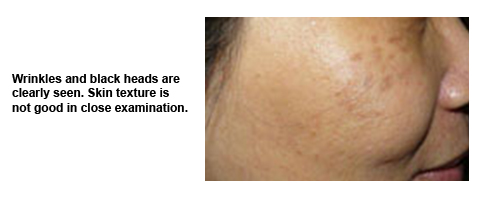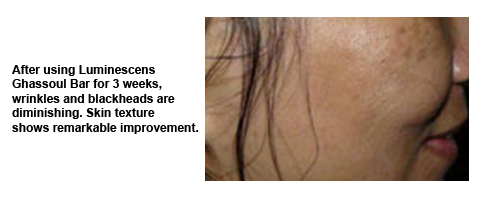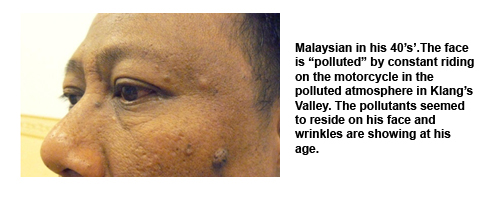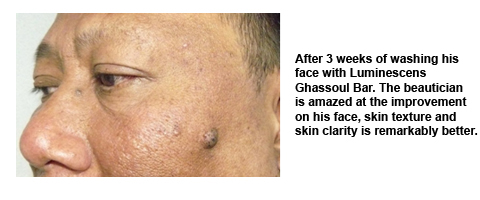 How Does Luminescens Ghassoul Bar Works Scientifically?
The mineral properties of Ghassoul clay were studied extensively and presented at the 12th meeting of the National Institute of phytotherapy in Paris in 1985. Contains a higher percentage of silica, magnesium, potassium , iron , sodium and calcium than other known clays.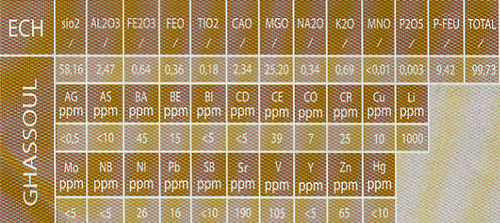 The Chart below shows how all these minerals can generate tremendous benefits to human's skin and body, by Luminescens Ghassoul Bar.
1. Calcium
Is the building block for corrective tissue under the skin's surface and plays an important role in cell protection. Regulates cell membrane permeability (absorption and oil production) and normalizes skin cells' differentiation.
2. Magnesium
A therapeutic mineral, it helps the healing of skin tissue, acts as an antiallergenic agent on the skin improves cell metabolism, stimulates protein synthesis and facilitates energy production.
3. Potassium
Is a key moisture regulator and helps preserve a neutral skin environtment. Signs of potassium deficiency include abnormally dry skin and acnes as well as flare ups of Psoriasis.
4. Silica
The beauty mineral, and is a main ingredient in many skin, hair, and nail formulas. As we age, the supply of Silica in our bodies becomes depleted, resulting in wrinkled, dry skin, lackluster hair and brittle nails and bones.
5. Sodium
Is essential constituent of NMF (Natural Moisturizing Factor). It also improves the skin cells metabolism.
The benefits of trace minerals will then do the followings for your skin.
An Application is A Natural Therapy That Will
Balance the Oil Level of the Skin.
Refine Skin Texture.
Restore a Glow to Dull and Dry Skin.
Leave Hair Soft and Shiny and Enhance its Volume.
Impressive Ion Exchange Properties.
High Level of Ion Exchange
Extraordinary Power of Absorption.
Fantastic Power of Absorption.
Drawing out dirt, toxins and free radicals.
Gentle exfoliating dead skin cells.
Depositing rich minerals in skin.
CONTAINS EARTH'S MOST NECESSARY HEALTH AND BEAUTY ELEMENTS
Why It Is called Luminescens Ghassoul Bar?
In order to improve and enhance further such a Nature's gift , our researchers decided to include 5 more known Nature's Nutrients to give the Bar a more complete skin restoring property; with all natural ingredients for your skin's health and beauty. These natural ingredients are Rosemary Oil Extract, Allantoin from Comfrey plant, Virgin Coconut oil Extract, Citrux Hastrix extract and Cinnamon Oil Extract. We want to make the Luminescens Ghassoul Bar to CONATAIN EARTH'S MOST NECESSARY HEALTH AND BEAUTY ELEMENTS

With such a unique formula, we therefore gave it a unique name and that's why it is called Luminescens Ghassoul Bar!
The Chart below explains why we include those 5 natural ingredients:
Rosemarry Oil
| | |
| --- | --- |
| | The most important constituents of rosemary are carnosol, carnosic acid, caffeic acid and its derivatives such as rosmarinic acid. These compounds have powerful antioxidant activity. Rosmarinic acid is well absorbed from the skin. This makes rosmarinic acid a strong anti-inflammatory agent. On the skin, it helps to ease congestion, puffiness and swelling and can also be used for acne, dermatitis and eczema, but a very popular use of this oil is the use in hair care products, as it has a pronounced positive effect on the health of the hair and scalp. It increases the circulation to the scalp and is therefore also effective for promoting hair growth. It is most beneficial for improving blood circulation and decongesting the skin. Rosemary has been shown to have antioxidant properties. Antioxidants can neutralize harmful particles in the body known as free radicals, which damage cell membranes, tamper with DNA, and even cause cell death. Rosemary oil a have antimicrobial properties ie killing some bacteria and fungi on the skin. The extract of Rosamary Oil is one of the incredients that we put into the soap for your skin's health and beauty! |
Allantoin from comfrey plant
| | |
| --- | --- |
| | Allantoin is an extract of the Comfrey plant that work to reduce irritation and calm red, upset skin. This ingredient is ideal for those who suffer from sensitive skin, acne, rosacea, and eczema. Allantoin is moisturizing and keratolytic, meaning that it causes keratin in the skin to soften. This property helps skin to heal more quickly and to bind moisture more effectively. Allantoin is now widely used in many cosmetic products for its soothing, anti-irritation properties and for acne control. It actively softens the skin (Keratolytic Effect) and increases rapid cell regeneration by precipitating proteins on the skin resulting in anti-aging effects. Allantoin is useful for dry skin and for healing wounds, burns, and scars. It is has tested effective against sunburn, chapped lips, cold sores, diaper rash, and similar skin irritations. Allantoin has proven attributes for: § soothing irritated skin § stimulating cell regeneration § moisturizing even the driest of skin. As a result, allantoin is used as an active ingredient in a wide range of skin care products including anti-aging treament. |
We are pround to include this Allantoin in the Luminescens Ghassoul Nature's Wonder Soap
Virgin Coconut Oil
| | |
| --- | --- |
| | Virgin coconut oil contains lauric acid, capric acid, vitamin E, vitamin A, anti-oxidants and anti-aging plant enzymes that help to restore skin youthfulness. Antioxidants in lauric acid help to defend cell membranes against attack from free radicals, provide sun protection, promote continuous skin repair and make you look your best whatever your age |
Cinnamon Oil
| | |
| --- | --- |
| | Cinnamon, which has the scientific name Cinnamomum zeylanicum originate from tropical Asia. Due to its antifungal, antibacterial, antiviral and antiseptic properties, it is effective on external as well as internal infections. It helps in destroying germs in the skin. Cinnamon oil is derived from the bark and leaves of the cinnamon plant. The tree produces both cinnamon bark oil and cinnamon leaf oil. While each has distinctive benefits, cinnamon is known to be high in antioxidants with antibacterial properties. Cinnamon bark oil is distilled from the dried inner bark of the tree and contains a chemical component called cinnameldehyde. A natural pain reliever, it is extremely powerful as an antifungal and also has anti-inflammatory and anti-parasitic properties for human skin. |
Citrus Hystrix
| | |
| --- | --- |
| | Citrus hystrix contains tannin, triterpenouid and saponin. It is used in herbal medicines and traditional treatments, as the fruit and especially its leaves, have those special properties to encourage the growth of skin. In the old days, Citrus hystrix juice is used to treat hair and promote healthy growth of hair follicles. Nowadays to achieve this better, hair is first washed with ordinary shampoo, and then the hair and scalp are washed with the juice extracted from the fruit. Citrus hystrix acts as a natural detergent, removing of the surface layer of the dead cells containing of the surplus of melanine, making possible of the faster renewal of the new young cells containing a less melanine. Citrus hystrix extract's powerful free radical scavenging properties help to protect the skin from free radical damage and inhibit the formation of melanin (dark pigment). It lightens skin by removing dead skin cells and naturally softens skin. Daily use promotes fairer skin tone and smoothens complexion. It helps to remove age spots and promotes skin renewal. |
You Need Luminescens Ghassoul Bar For Your Skin Health!
SAY GOODBYE TO PROBLEMATIC SKIN AND HAIR !
We are very excited with this Bar as it is not just the nature's wonder of the Ghassoul clay that restore your skin, we have included 5 nature's incredible ingredients for skin improvement and restoration. It is for the health of your skin that we have in mind, let us summarize what we have presented to you thus far. Luminescens Ghassoul Bar is Clinically Proven for Skin Vitality. It is suitable for Malaysians and many are benefiting from its nutrients. Luminescens Ghassoul Bar "CONTAINS EARTH'S MOST NECESSARY HEALTH AND BEAUTY ELEMENTS" for your skin health and beauty!
Why people choose Luminescens Ghassoul ?
Overview
Different from other Clay Formulation :

• Exceptionally gentle, leaves skin amazingly soft.
• Completely non-irritating to skin and scalp.
• Will not dry out skin and hair.
•Suitable for dry hair and sensitive skin.
Luminescens Ghassoul - Perfect Natural Skin Purifier.
Natural Therapy
• Balance the Oil Level of the Skin.
• Refine Skin Texture.
• Restore a Glow to Dull and Dry Skin.
• Leave Hair Soft and Shiny and Enhance its Volume.
CONTAINS EARTH'S MOST NECESSARY HEALTH AND BEAUTY ELEMENTS
Other uses of Luminescens Ghassoul
For Skin
• Purify skin without removing all of its protective sebum.
• Remove surface oil and oil from inside and around comedones (blackheads and whiteheads).
• Brighten and moisturize mature, dry skin.
For Hair
• Leave hair soft and shiny and enhance its volume.
• Remove danduff and ease problems of excessively oily hair.
Award from GeoAA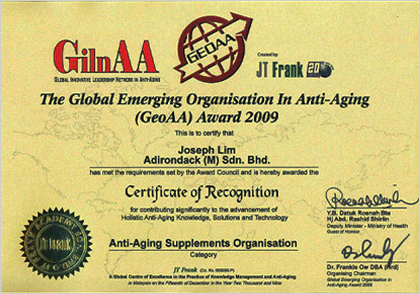 Luminescens Ghassoul - 21st century breakthrough
• We can confidently say that Luminescens Ghassoul is one of the most advanced cosmeceutical formulation of the 21st century.
• It is the perfect natural skin purifier that satisfies all you skin need.
• We are trilled to formulate a soap with so many cosmetic applications converged into a single product like Luminescens Ghassoul, for your skin only.
Get Your Luminescens Ghassoul Bar Today! Online ;
Fast and Easy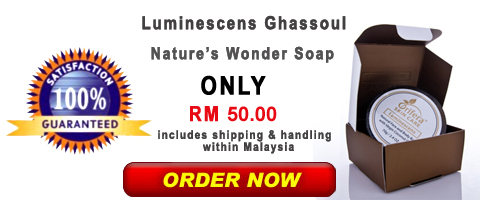 ** Net weight 70 gram (Daily Cleansing for 1 person will last 45-60 days)
Direction for use :
Wet your face and then apply the bar soap evenly. Massage gently, then leave it to dry for 5 minutes and then rinse off. Feel and see the difference!
** Net weight 70 gram (Daily Cleansing for 1 person will last 2-3 months)
Payment Guide :
How to Order ?

To Our Malaysian Customers:
If you choose to use Visa / Mastercard / Paypal to made a online payment :
Please note that Credit card payment is via ipay88

IPAY88: Please note that your Payment is processed by Mobile88.com Sdn Bhd.The Name of Mobile88.com will be shown on your Credit Card / Bank Statement and you will also receive a notification e-mail from Mobile88 on the Transaction.

Click this link to purchase Online with Luminescens Ghassoul Bar

Further enquiries : naturenutrients.com@gmail.com


If you choose to use ATM machine and Third party Money Transfer
Payable To:
CIMB Account : 1263 0000 8500 58
Name : Nature Nutrients
Email us the following information;
Name :
Shipping Address :
Hand phone Contact :
Payment Details
Amount of money you have transferred :
Location of Bank :
Date of Transaction :
Order Details
Names of products:
Quantities:
And Email the details to :
naturenutrients.com@gmail.com
To Our International Customers :
We can ship our products to you via DHL,FEDEX and UPS and the choice of registered mail for a single Bar. Just write to us for the products you wish to purchase, and we will give you the quotation, complete with delivery charges according to the country where you reside. We will send you an email invoice which you can pay with your credit card. We accept payment through credit card or paypal via ipay88.com
Email Us :
naturenutrients.com@gmail.com
Shipping Details
Shipping charges within Malaysia:
As a rule, shipping charges within Malaysia for purchase less than RM99.00 is RM5.00. So it is rather un economical to send just one item at one time, this is the reason why we encourage you to buy at least more than RM99.00. As you purchase more then RM99.00, shipping is free of charge for your benefits.
Malaysia Shipments Services:


Contact us if you have any enquires for our products.
Nature Nutrients
(001608822-w)
G-4, Block Cempaka,
Lorong Dagang 5/1B,
Taman Dagang,
68000 Ampang, Selangor. Malaysia.
Fax: 603 - 4287 3237
Enquiries :
naturenutrients.com@gmail.com
For more Nature's Nutrients Products And Resources, please visit at www.naturenutrients.com
URL :
www.naturenutrients.com